North Miami: 305 895-5993
North Miami Beach: 305 944-3499
Qualified. Committed. Capable.
Only through years of commitment has Get Smart Kids Academy become recognized for its innovation, leadership, and reputation for excellence in early childhood education.
Our academies are accredited by national and state organizations that require us to meet rigorous early childhood education standards and guidelines for high quality care. You can have confidence that your child receives the best care and education possible at Get Smart Kids Academy. See below a list of reputable organizations our academy works closely with and the designations we have been awarded: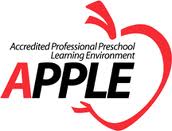 A.P.P.L.E. (Accredited Professional Preschool Learning Environment) is a national accreditation program. All components of our program were examined including: program administration, classroom environment, parent and community involvement, advocacy on behalf of children and child care, staffing credentials, class size, staff to child ratios, teacher/child interaction, family involvement, literacy and curriculum.  Our academy had to meet or exceed the high standards required by A.P.P.L.E. and in order to maintain our A.P.P.L.E. accreditation Get Smart Kids Academy must continually exceed high national child care standards.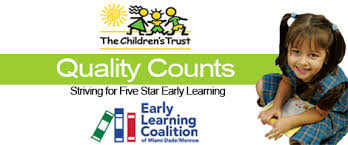 Get Smart Kids Academy has been awarded a 5 Star rating from the Early Learning Coalition of Miami-Dade/Monroe Quality Counts program for having met the highest standards as a provider of Early Childhood Education. The rating is based on quality standards that focus on our learning environment, staff qualifications, curriculum, family support, and family involvement.  Ratings range from 1 to 5 stars. We are proud to be among the few schools in Miami Dade County that hold a 5 Star designation.

The Gold Seal Quality Care Program is a level of care that exceeds the minimum licensing standards by meeting the higher standards set by the approved accrediting agencies.  These accrediting agencies must meet or exceed the National Association for the Education of Young Children (NAEYC) standards, the standards of the National Association of Family Child Care, or the standards of the National Early Childhood Program Accreditation Commission.